Jurmala today
I want to say repeatedly that Jurmala is great! That it is called the pearl of Latvia for a reason. Its amazing sea air combined with pine needles fills the lungs with the most beautiful aroma and pleasure! They come here for good mood, long walks, treatment and beach rest!
Jurmala is the largest resort in Latvia on the shore of the Gulf of Riga. This small town with a population of about 50 thousand inhabitants and developed infrastructure attracts tourists from all over the Baltic States and Russia.
If you had been here at least once, you would hardly have remained indifferent to the clean velvet beach, which is more than 20 kilometers long.
Jurmala beaches
The beaches of Jurmala are unique! They are covered with fine white quartz sand and incredibly clean and wide – from the edge of the water to the dune hills in the central part of Jurmala beach occupies 25-50 meters.
The beaches meet high standards of cleanliness and safety. They are also divided into zones for active and passive rest. There are children's playgrounds, stretched volleyball nets. Annual beach soccer and volleyball tournaments are held.
The weather in Jurmala in the summer
Summer weather in Jurmala is unpredictable. Despite the fact that the swimming season lasts from June to the end of August, the water temperature is about 17-22 °C. It's quite vivacious.
In June, July and August the air temperature can jump from 18 to 30 degrees! Therefore, it is better to take your jacket with you to the sea. The only thing that in July and August the water temperature is slightly higher than in June and in some places warms up to 21-22 degrees.
But again, it is very difficult to guess the weather in Jurmala in summer. Especially if you plan a trip in advance. However, if you're not very lucky with the weather, you shouldn't be upset – dedicate your time to a trip to Kemeri National Park – an incredible place with a graceful nature!
Jurmala neighborhoods
Jurmala is divided into several districts. The most famous of them are Asari, Vaivari, Lielupe, Kauguri, Melluji, Majori, Dzintari, Bulduri, Kemeri, Dubulti, Priedaine, Sloka.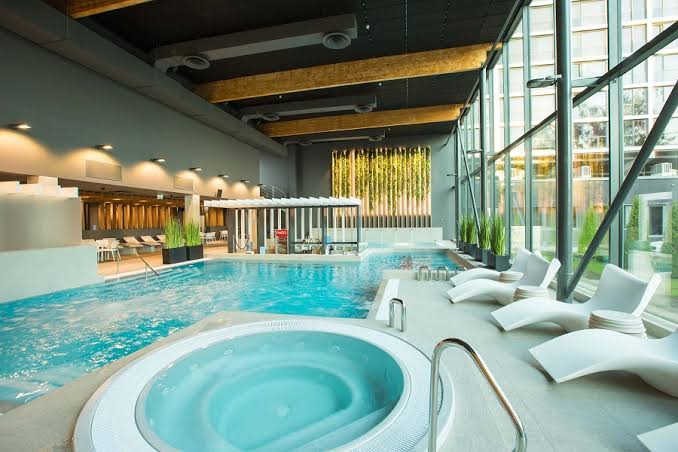 Lielupe: interesting are the indoor tennis courts, the Livu Akvaparks water park, the buildings where famous people lived, the Ragakapa Nature Park and the Jurmala Museum of Nature.
Kemeri is known for its "health resorts" and National Natural Park. Mud and mineral springs were discovered here.
Dzintari: the most popular area since the New Wave. To this day, the Dzintari Concert Hall is a time of major concerts and shows. Dzintari is also known for its forest park of the same name with an observation deck.
Majori: The area is famous for its luxurious hotels and spa centres, Jomas Street with its cafes and restaurants, and the "Turtle" sculpture at the Baltic Beach Hotel.
Asari and Melluji are known for their Kapu Street, where the most expensive and elite real estate is concentrated. This area of Jurmala is even called Jurmala Rublevka.
What language does Jurmala speak?
The ethnic composition of this resort town is very diverse. Besides Latvians (50% of the population) and Russians (35%), there are many other representatives of different countries: Belarusians (3.5%), Ukrainians (2.3%), Poles (1.5%), Lithuanians (0.8%), Jews (0.8%), Gypsies (0.7%) and many others.
Almost all representatives speak fluent Latvian, Russian and English.
What kind of visa is needed in Jurmala?
As a rule, it is a short-term tourist visa. To get a visa to Jurmala, you need to collect a small list of documents:
Passport with photocopies of pages;
Certificate from your studies or work;
Hotel booking confirmation and tickets;
Insurance;
Questionnaire;
Photos.
How to get to Jurmala?
From Lidosta airport, you can take a taxi to Jurmala. The trip will take about 15 minutes and cost about 10-15 euros, depending on the type of taxi. The most favorable prices at the moment at the taxi park Bolt.
You can also get from Riga by taxi. The distance from the center of Riga to Jurmala is 25 kilometers. You will drive about half an hour. The cost of a taxi varies from 15 to 25 euros.
Or you can get there by train from Riga Central Station. A train ride to the city centre takes about 35 minutes and costs about 1.40 euros. There are no buses to Jurmala.
If you plan to visit the resort city by car, you need to know that the entrance to the city from May 1 to September 30 is paid and amounts to 2 euros per day from 00:00 to 23:59.
Prices for accommodation in Jurmala
You can see approximate hotel prices at Booking. Below is the grouping by price categories – cheap, popular, luxurious.